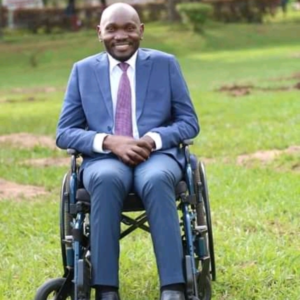 Denis Ouma, AVODA Class of 2022
Denis Ouman, a young man living with a disability, cofounded two disability-focused initiatives before joining AVODA:  the Coalition for People Living with Disability Activism Uganda and the Spinal Injury Support Society. Professionally, he has worked as a social worker for the last six years.
After joining AVODA, he's now transitioning into an avid entrepreneur through his newly founded company, Embellish Consults. Embellish Consults is a marketing consultancy firm whose mission is to pursue disability inclusion through business, marketing, and a communication consultancy. Their focus is to develop customized products specifically tailored to meet the interests of persons living with disabilities across the world.
When asked how he would describe his AVODA experience, so far, he responded in three words, "humbling, strategic, networking."
Denis went on to describe his AVODA journey, "Sitting under the influence of such informed and practical instructors really has been an environment where we are harnessing special skills to refine and empower our business ideas."
Denis continued "They are walking with us every single day of our study, giving us the tools to redefine our value proposition to the world. It is an absolute honor to which I thank God for, that He has given me this opportunity to not only interact with the wide network of brilliant entrepreneurs but also to sit under the wisdom of our instructors."
Denis believes that there is a huge untapped potential market amongst persons living with disability. Only if companies around the world would realize and develop products and services that are inclusive enough. He strongly believes that this approach solves several problems. It helps persons living with disabilities to participate in the growth of economies, it helps companies expand their market share, and it also contributes greatly to social development.
There is a lot more to come from Denis and other AVODA entrepreneurs. They are at the half-way point in their program. They will transition into the practical half of their education where they go out into the marketplace to test their ideas, form teams, incorporate their businesses, seek investors, and make sales.
Please continue to offer prayers on Denis's and other students' behalf as the program intensifies and they actually start to put their business ideas to test.